HARLEY-DAVIDSON SPORTSTER 1200 & WHY YOU SHOULD BUY ONE
"Not a girl's bike anymore!"
No Engine Defects: The Sportster Evolution engine is perfected with zero mechanical flaws, defects, troubles of any kind which is amazing for an air-cooled V-Twin. Read this article, What You Need To Know Before You Buy A Harley-Davidson Motorcycle and you will understand what defects we are talking about. Most Harley riders have no idea the bike they are riding is doomed for expensive failures.
The Harley-Davidson Sportster has zero serious defects anywhere on the bike! These late model Harley Sportsters are reliable powerful motorcycle you can buy and ride away and never have to worry about anything seriously breaking down!
CHECK OUT THIS BIKE
Harley-Davidson 2012 Sportster 1200cc Custom - See this bike on front cover of tire change book below!
"It's time to ride, so let's ride!"
Note: Do not buy a used pre-2004 Sportster for they do not have the rubber engine mount and other enhancements. Also, do not buy a 883cc model Sportster, go with the 1200cc. You will tire of the 883's lack of power.
Belt Drive: Take a good look at the Sportster and you can see the drive belt is on the right side of the bike opposite the primary case. It means two things; you don't have to remove the entire primary system and you don't have to split the swing arm apart to change the transmission drive pulley and the drive belt. You will save $1,000 right here alone when it comes time to change your drive belt. Yes, drive belts and pulleys do wear out! They also can fail after 60,000 without warning. You can drive over a depression in the road and the belt slip off the wheel pulley and become damaged. With a Sportster all you do is remove an exhaust pipe and a belt guard, loosen the rear wheel and slip the belt right off. A fifteen minute job that only cost you the price of a belt! The Twin-Cam Harley's? It will be a three hour job with over $1,000 bill and you won't have the bike for a few days as it will be in the shop.
Engine Oil: Changing the engine oil on a Sportster is quicker because one engine compartment has been eliminated. The transmission and primary chain case oil is the same and drained from one 5/8" drain plug both using the same oil.
"More Harley-Davidson Repair Technicians Ride Sportster's These Days!"
Fuel Mileage: You will get more miles per gallon of fuel with the Sportster. The engine is fuel injected and computer controlled. The bike is lighter in weight so it saves gas. As fuel prices keep on rising this gas savings will be immense and should not be overlooked.
Ride Quality: The new Sportster's comes with better shocks so the ride is smoother, much, much smoother! Better handling due to the fat 16" tire on front of some models is a feature you should not overlook with cast wheels. Stay away from spoke wheels. They are troublesome, high maintenance and you can't fix a flat tire while on the road. It will strand you to call a tow truck. Get the model that has the option of installing forward foot controls for that typical Harley-Davidson sitting posture most all of us love. The best result is for you to take one out for a test drive and you will see just how nice the new Sportster's truly are. They are nothing like the old ones! You'll get a smooth ride, a great engine, and the handling is just plain fun.
Rubber Mounted Engine: Yes, the new Sportster's have rubber isolated engines just like the Big-Twins! Vibrations are not jarring your brains out like the old Sportster's did giving the bikes a prolonged bad reputation. This is a huge improvement to the Sportster line up and people are now buying Sportster's who would never have done so before. Along with the new styles of bikes to choose from and better suspension systems and wider tires, bigger gas tanks, great handling and ride quality the new Sportster is driving a new cult of ridership. I am impressed every day I ride my Sportster.
Unitized Engine: In model year 2004 the transmission and engine were combined into one case, like the Twin-Cam engines. There are pro's and con's to this setup. The transmission can not be overhauled without splitting the cases in the unitized engine. It means the engine must be removed from the frame and the entire engine disassembled. It is a big job and it is expensive. It is time-consuming even if you do the job yourself. Much like new Japanese engines, but worse, for the Japanese permits transmission overhauls just by removing and flipping over the engine to remove the lower case half leaving the top-end intact. The odds are good to very excellent you won't have to tear the engine apart to fix the transmission because the Sportster transmission is solidly built to last. However, if you are a drag racer or a rider prone to pop wheelies and speed-shifting you won't want a unitized engine (unless you have a spare engine to swap out). I still recommend the unitized engine because to get all the nice new features of the modern Sportster, you don't have a choice but to but the newer models. Also, transmission failure, under normal use, is very rare on Harley-Davidson Sportster unitized engines.
Powerful Engine: Don't let the smaller 1200cc (74 cubic inch) engine fool you into thinking you will have less power than the bigger Twin-Cam engines as those bikes are super heavy and gobble up and absorb power due their lofty mass. When you open the throttle on the Sportster you will know why it is called a "Sporty" as it will slam you backwards and give you that V-Twin torque feel the big bikes can never give you. Again, test ride one and you will be convinced.
"The Sportster is an amazing bike!"
Fun to Ride: I had many huge displacement V-Twin motorcycles from 88 c.i. to 125 c.i. and not one of those big bikes ever gave the thrill of acceleration and quick handling I get on my Sportster 1200 Custom. In fact, riding the big bikes is boring. They ride too smooth like big Cadillac's taking the fun out of riding a motorcycle. On long rides the new Sportster's are equal to the task for riders in the 5 foot range in height. If you are tall the Sportster may not fit you as well as the bigger bikes. A test ride of the bike will determine that.
Low Cost to Purchase & Maintain: You will love the lower cost to buy the bike. You'll also love the lower cost to fill the gasoline tank and most of all you will truly enjoy not having to fix the engine due to defects and failures. Even the cost of routine tires and brake pads are way lower in price than the larger bikes. My Sportster has big 16" tires and I still pay less than the same 16" size tire used on the larger bikes, like $100 less per tire! Insurance is cheaper. DMV fees are cheaper. Imagine having more fun and paying less for it... the Sportster is an amazing bike!
Great Sound: Just listen to a Sportster 1200 with pipes and can you tell the difference? It has that Harley sound you want (if you like that low-thundering Harley sound). Even the 883's sound great. Slip-on pipes is all you need to save money instead of buying an entire pipe system. Yes, you must add a higher flowing air cleaner element and a power management fuel system to tune up the fuel mixture in most cases. Today, the aftermarket fuel management devices just plug in and learn themselves or, you need to set in parameter numbers using push buttons. Easy to do. No need for a dealer to install the pipes and flash the ECU. I installed the Vance & Hines Straight Shot slip-on pipes. I also found the stock baffles are too loud and bothersome, but the fiberglass wrapped quiet baffles lowered the octave of the sound to resemble exactly the Big-Twins which is still a bit too loud, but a wonderful deep and decent tone of sound is emitted instead of a high-pitch raspy, neighbor-busting, irksome emission. I had problems with Vance & Hines tech support and they will not refund on "defective" fuel management device they sold to me so I got rid of their products. I switched to... The Sportster in the photo above has Supertrapp pipes that sound great and with 12 disks installed and stock air cleaner no tuning is required and it still has a lot of power and great gas mileage. It is so easy to tune these pipes to the sound and performance you want. Few pipes have such flexibility and the pipes cost less than other brands. Nice pipes. But there is a problem with the end-baffle screws carbonizing with crud and stripping the screws. Due to this grief I swapped out my Supertrapp for Harley-Davidson Screaming Eagle slip-on mufflers. Rinehart Racing has some nice long pipes that will take the loudness away from the ear and send it out back where it belongs and they are below the rear axle so you can install saddlebags without interference, which is a very nice feature indeed. However, I would want to see a Long-Shots version that extends below or beside the rear axle extending about 6" longer as the sound is still a bit too close to the ears for comfort.
"Have you noticed more custom bikes are now Sportsters? You can see them in the magazines and at motorcycle rallies."
What Not To Buy: When considering buying a Sportster consider the following points:
Engine Size: The 883cc is underpowered. It is okay for the beginner rider to learn on, but soon that rider will want (and need for safe road hazard evasion tactics) the added power the 1200cc engine has. Many who buy the 883 version already have in mind to upgrade the pistons and cylinder head with the 1200 bore kit. There is nothing wrong with this formula except that with some good shopping and hard dealing you can buy a 1200 for near or even below the price of an 883. The conversion kits also don't have the higher-flowing cylinder heads the stock 1200 engines already have. It is just wise to buy the 1200cc size engine to begin with and leave the 883 engine on the dealer's floor... it is not worth the grief! Also, 883's will not hold their resale value as well as a 1200 engine bike will.
Tire Size: Stay clear of spoke wheels, but go with cast wheels with those big 16" tires front and rear. They absorb road bumps, will not grab cracks in the road making for a nice straight-line smooth ride even on old roads in need of repair. Stay clear of those skinny 21" wheels as they will make for a horrendous arm-workout. The bike squiggles down the road with those skinny tires constantly tiring you out just like the old dreaded Sportster's used to do. Get the upgraded wide 16" tires as they run cooler and last longer too! It is not unusual to get over 10,000 miles on a set of 16" tires as they run cooler and shed heat to the fat rim like a heat-sink keeping tires at optimum temperature.
Fuel Tank: Many Sportster's still have those tiny 2 or 3 gallon "peanut" style gas tanks. Buy it only if you plan not to ride the bike over 60 miles one way. These are city bar-hopping bikes! They don't have the range to initiate touring mode unless you are willing to carry portable gas containers. Hint: You can carry gasoline in saddlebags if in a proper container that will not leak and is approved for such use. This will help extend your range. Your best bet is to purchase a 1200 Custom which comes with a 4-gallon or larger fuel tank.
Click here to read about the book.
Pistons: The pistons are cooled with oil jets that removes heat from the undersides of the pistons. Only the big cubic inch high energy engines use this system, yet the Sportster has it! It means Harley-Davidson is really going all out to make the Sportster engine double bulletproof.
Cooling: The cylinders and cylinder head size is huge on the Sportster and about as large as the big-inch Twin-Cam engines. This means the huge cooling fin surface creates a remarkable heat sink to shed engine heat. Also, there is a huge square hole to the top of each valve cover and this tunnel rejects heat like a errupting volcano to keep the engine cool. The next time you are at a dealer showroom, just take a look at the size of the Sportster cylinders and heads compared to the Twin-Cam engine. A cool running engine always lasts longer!
Cams: The stock cams are already high-performance, believe it or not, they are. Remember, this 1200cc engine is a racing engine will all the toughness and performance built in. The cams have no chains or tensioners to wear out as the cams are all geared and bolted into place for the utmost cam valve timing control and power output. But if you want more power you can install more aggressive cams with ease as they just bolt right in.
Primary Chain: Adjustment is easy to do without having to remove any covers, just remove a two-screw inspection plate, loosen a lock nut, adjust the chain with an Allan wrench to 1/4" when hot, tighten the locknut, install the inspection cover and it is done for the next 10,000 miles.
Transmission: It is so reliable H-D removed the trap door so there is no access to the transmission. However, if anything were to go wrong the engine requires a complete teardown to access the gears. A lot of bikes are like this (Japanese, British, German, Italian) so it is not a drawback as there are no known issues of transmission defects or failures on Harley-Davidson Sportster models. That is the beauty of the Sportster... the engine and transmission has zero defects which makes it the perfect Harley-Davidson to buy.
"The Sportster may well wear out in time, but it will never break down due to some hidden defect." - James Russell
Clutch Pull: The clutch lever is easy to pull on the Sportster than on the Twin-Cam engine so there is no need to purchase a remedy kit to avoid hand cramping. And if your clutch cable snaps? You can easily replace a clutch cable on the Sportster without grief and you can fix it on the side of the road whereas on a Twin-Cam model a lot of items must be removed (exhaust pipes, floor board, drain transmission oil, etc.) to gain access to the clutch cable end that it can not be fixed on the side of the road.
Shaft Bending: There is no shaft bending and bearing failures taking place in the Sportster Evolution engine as in the Twin-Cam engines. Why? The shafts in the Sportster Evolution engine are short and supported by strong bearings. Placing the transmission output on the right side of the bike solves the crankshaft and transmission shaft bending problems.
Accessories: H-D has a ton of accessories for the Sportster. The aftermarket also has even more. And, the prices of accessories for Sportster's are way lower in price than the Big Twin models. You just keep saving money with a Sportster.
Parts Prices: It is amazing how much cheaper it is to buy engine and transmission and frame parts for the Sportster. In many cases they are half-price of the Twin-Cam prices even for expensive items. Very nice!
"The cost to own a Sportster is pleasing to the wallet in all respects." - James Russell
Operating Cost: The cost to own a Sportster is pleasing to the wallet in all respects. Calculate the fuel mileage (50 to 60 miles per gallon for the 1200 models), lower sales tax and a much lower price to buy, economical insurance, annual DMV renewal fees and low cost accessories and most of all no devastating bank-busting repair bills! Fuel mileage for a 1200cc Sportster will get you 50 to 60 miles to the gallon of gasoline even with a Stage-1 tune up (air cleaner, exhaust pipes and ECM flash). If you ride the bike hard you'll still get 45 to 50 mpg, imagine that! Money saved is money earned.
How to Buy a New Sportster: Shop out of town, even in another state and you will get the best deals! Just rent a U-haul if need be to haul your bike back home. You can ride it home, but you won't likely be breaking in the engine properly if you do. Start with an e-mail and just say,
"Dear Fun Ride Harley-Davidson Dealer, I am ready to buy. I live in Texas and I want a no-nonsense low-out-the-door price that is worth my effort to come to Arizona to buy the bike from you, so just give me your lowest price for the bike and your best discount percentage for any accessories I may also want to buy from you. I want the new blue color Sportster 1200 Custom with mini-ape hanger handle bars, chrome engine, forward controls and banana seat. If your price is low I will buy the bike now. Sincerely, YouKnowWhoIAm. Contact me by e-mail at:_______. Thank you."
My Personal Testimony
Arizona is a nice place to buy motorcycles as they are about $3,000 cheaper than Nevada, or California prices. I believe it is to attract out of state buyers. I know I saved buying in Arizona. Other states also have low prices. Consider buying out of state and see if you can save money. I bought a new Victory Kingpin in 2011 and got a great price in Yuba City, CA nobody could beat in the state I reside in at the time was Nevada. I bought a new "factory ordered custom" Sportster in 2012 in Folsom, California and I saved $4,300 from dealers in the state I reside in. It pays to shop around and ask for a good deal. Also helps to buy in the winter months! I was just in that Folsom Harley-Dealership in August and the prices of their bikes were awesomely low on the "price tag" yet. I will most certainly buy another bike from Folsom H-D. I had a recall notice, took it to a local H-D dealer and they were "too busy" to see my bike. Next day I take it to Folsom H-D without an appointment and in 1.5 hours the bike bike was fixed (voltage regulator replaced due to a bad batch in production) and I was on my way. If you live near California or just want a great deal no-nonsense Harley-Davidson, new or used go to Folsom, California and get ready to ride home with a bike at a nice price. Currently Jim and Andy I know are reliable salespersons at that dealership. With over 60,000 miles on the 1200 XL Custom Sportster all I do is change the oil, replace tires and ride.
"Learn to Install New Tires on Your Motorcycle and Fix Flat Tires" click to learn more. Even Installing and Balancing Harley-Davidson Tires Too... stop paying, do it yourself... it's easy.
Advice on Dealing With Some Dealers
Some dealers may not even respond to your e-mails or they respond and don't answer you back and it is because they have "stupid" sales persons (and dealership owners with ignorant general managers) who do not check or even answer their own e-mails! You want to deal with a business that knows how to run a business, so this is a good first sign if they e-mail you back and keep in touch with you. If a salesperson drops the communications? Drop him from your shopping quickly and seek out another dealership. Not all H-D dealerships are professionally operated as they should be. Also, when you have cinched a deal with e-mail it is a written record of the deal prior to the purchase contract for your protection. It helps everybody get on the same page knowing what is being ordered and what is to be delivered. I purchase my bikes all by e-mail and I pay by check in the postal mail, then I go pick up the bike. It is a formula that works and weeds out the flaky salespersons who don't even know how to type their own name! I rather deal with higher levels of competence than that, don't you? Dumb salespersons will screw up the order and they will also not give you a good price deal.
If you prefer to do business in person face-to-face don't let any sales person approach you and don't take their business card. Once you do, they will always steer you to that person. He has claimed you as his and that takes away your choice! Talk to each salesperson, but don't take no business card from them, yet. Talk about bikes and features and technical details and how certain accessories you want will fit the bike you want. Watch out if they say, "I think, it should, likely will fit." If the salesperson is not professional here you will find out. You want a salesperson who has studied his products and knows what will fit and what will not fit. Do not accept liars and dummies as your sales person. Find out who the general manager is and tell him you want an "experienced and honest salesperson who does not give sales pitches then go from there. It still does not mean you will get one! If not, go to another dealership right away! Even if that dealership has won H-D Top Dealership awards (they all seem to win some sort of recognition) go shop around for a better buying experience. You should reward those salespersons who are professional, fair and willing to give you deep discounts in their dealings to "earn your business."
"Never blindly believe anything a salesperson tells you... never! Always verify."
When you do find a professional salesperson who wants to "earn your business" when it comes time to fix problems with the bike he will use his influence to give you better service, better treatment, better pricing. When it comes down to trading-in your bike to buy another the deal will go smoother too. Everything is better when you deal with professionals. I know as I have bought over 20 motorcycles so far in my lifetime with more to come!
A big problem I see is buying a bike from your home town dealership. They work on the friendship principle of gaining your friendship and trust which "obligates" you to buy from them, but they are not so friendly giving you deep discounts! You may feel like a "traitor" or "disloyal" customer if you do not buy from them, but you must resist such intense psychological "persuasions" and go with the best deal you can get from a distant dealership. The farther away you travel the better the deal should be. When you see the low price is fading at least you know just how low some dealers can go to sell you a bike. Low price is not everything. It is okay to pay a bit more as long as you know you are dealing with professionals. What good is a low-ball deal if when you show up to get your bike it is not ready to be delivered to you? Or there is a paperwork screw-up preventing you from taking the bike home with you? Lost DMV documents? Improperly filled in data in purchase contract agreement? A changed, altered, inflated purchase contract agreement on the day of delivery? Last moment price changing trickery?
If you find a dealership that has reliable e-mail communications you will find your professionals! It is one of the greatest indicators of professionalism I have found when buying a new vehicle. And it makes sense doesn't it? Diligence should be rewarded.
One more thing. Buy from a dealer's salesperson who really likes you and is willing to spend time to talk to you and get answers to your questions. Do not accept answers like, "Well, you got to go to the service department and ask them." That does not fly. The salesperson needs to "earn the sale" and do the research for you to guide you into the sale. Make sure the sales person really does like you and will smile and be friendly. Stop rewarding unprofessional sales persons. Those sales people will only steer you into the wrong product to buy anyway.
Optional Accessories: When you find the bike style you want, make sure the accessories will fit. Example: If you factory order or have dealer-installed ape-hanger handlebars make sure they give you extra slack in the wiring and cables and hoses to also install 4" riser & 4" pullback riser without having to cut wires. I bought one and forgot to ask and I had to cut electrical wires and route cables and houses to give me that extra lean-back sitting angle I needed. Better yet, see if a factory order will permit risers to be installed at the factory with the ape-hanger bars. That will solve many problems. I recommend buying H-D accessories because they fit right and will not interfere with saddlebags, rack, back rest, etc. Ask for and later agree with at least a 10% discount when buying accessories. If you are paying retail prices ask another dealer for discounts and you will buy from them. They usually cut you a deal. One thing you will find that H-D dealerships generally do not like each other as much as we perceive them to be in unity. Again, out of town bargains are to be had to those who dare to ask for discounts. I often ask the local dealer for discounts and if they deliver then I buy. If not, I buy from those who do. Just because I buy a Harley-Davidson motorcycle does not mean I have given up the shopper's right to chase discounts, sales and great bargains like everybody else. Make sure all accessories listed on the purchase contract will indeed fit your bike! Match catalog numbers to the part number on the purchase contract.
"Have you noticed more customized bikes resemble Sportsters? They should just buy a Sportster and be done with it!"
Test Drive: Try to find the Sportster model you want to buy. If they don't have one go ahead and try another just to get a feel for the power of the engine, but do not judge the bike. That bike may feel and handle awful due to the low handlebars, foot peg location, seat position, etc. When the bike model you desire arrives then test ride that bike. Make sure the bike you test ride is stock. Some dealers may give you a demonstrator that is hopped-up or has expensive modifications. Take two test drives before you buy just to make sure you like it. When I test drove my first Sportster it was a 1200 Custom but it had low bars which I hated. I was stooped down like a drag racer when I wanted to sit upright like sitting on a couch, the typical Harley stride. But I got the feel for the handling and power and with 4" pull-back risers and mini-ape bars it came out "perfect" and the Sportster is now one of the best bikes I have ever owned. It is no wonder many Harley-Davidson technicians ride Sportster's. They don't want to be fixing their bike since they do that for a living every day. It's time to ride, so let's ride!
Nice Custom Sportster by Atlas Precision
What Is Wrong With The Sportster? The 1200 XL custom is the model that is best for touring. It looks like the Fat Boy Twin-Cam engine style of bike. The XR 1200X model is like a Buell crotch rocket and does not fit me or my riding style, but if a hot-rod or bar-hopper is your cup of tea the other versions of the bike will be to your liking. Overall, regarding the 1200 Custom the front forks still need a few degrees more of rake as the handling is still a bit too lively for my tastes, but it is a vast improvement over the older Sportster's and is not bothersome. I would like to see indexing marks on the swing arm to adjust the rear wheel alignment easier.
I prefer easier access to internal transmission gears and shifting forks. As it is now, if a transmission component fails the engine cases must be split to repair them (H-D removed the transmission trap door because failures are not frequent). I would like to see more electrical wire, brake hose and cable length when factory ordering ape-hanger handlebars bars as there is not enough room to install 4" pull-back risers without cutting and soldering wires to the speedometer LED readout. A larger headlight diameter would be nicer, but even some Big-Twins have small Sportster style headlights. LED headlight should come stock on the bike. I paid almost $400 for my H-D LED headlight, but it lights up the road like daylight which makes night driving on dark country and mountain roads pleasurable. You got to see it to believe it! And for accident prevention the LED is superb. If it can keep you from getting into a wreck that $400 headlight is a great deal indeed. There is some fleeting engine vibrations that are strong at between 50 and 60 mph that are not overpowering, but enough that you want to lower or increase speed to make it go away and it does disappear below 50 and above 70 mph. It is very smooth running otherwise. These vibrations decrease and go away after the break-in period. At 8,000 miles on the bike these vibrations have completely gone away.
"Twin-Cam Engine is inferior to the Sportster's Quad-Cam Evolution Engine!"
There could be one weak spot on the engine and it is the valve lifter bores in the crank cases. If the valve lifters wear out the bore holes you may have to replace the crank case, that is if there is no aftermarket oversize lifter or case sleeve available. However, I would be willing to bet these bores do not wear out below 200,000 miles especially if synthetic oil is used and is changed each 5,000 miles or less. If this is the Sportster's weak point its not weak at all. An aftermarket oversize lifter may be available to fix this problem or a bronze sleeve insert if and whenever a lifter bore problem ever develops.
Another problem that can occur in Sportster engines is a worn pinion shaft gear just within the right side cam gear cover. It has a tendency to wear out in the older pre 1998 models. It is not considered a defect as it is a part that like any other will wear down over time. The fix is to replace the gear when it is worn out. If you ride normally with synthetic oil you likely will not encounter a problem, but if you ride hard, fast and hotly the crankshaft pinion gear can wear out or shred itself to pieces when it fails. For those who ride hard the gear can break in less than 10,000 miles. There is a fix. Just buy a new bronze oil pump drive gear from Hammer Performance for less than $100. It is so easy to inspect and replace this gear. To inspect, just remove the right side cam chest cover and look at the gear's teeth. If the helical teeth are razor sharp or the inside of the gear is thinner or thicker than the other side of the gear just replace it. You can do it yourself. Harley-Davidson does not consider this oil pump gear weakness to be a defect. I would use synthetic engine oil and inspect it every 50,000 miles. If the gear does fail the engine oil light will come on and the valve train will clatter. Do not run the engine, turn it off. If you keep riding you can damage the oil pump, cam drive gears and on pre-98 engines metal can enter the crankcase and do major damage there too.
I found the negative battery terminal is one inch too short in length so it makes battery removal troublesome, but not impossible. I did not appreciate the side post battery terminals with a steel screw that threads into soft lead. This is not good as it is too easy to strip soft lead threads and vibration could wiggle terminal connections loose. A better aftermarket battery cable will fix this inconvenience with a steel bolt and nut to the battery terminals. There is not much room to fit a wider tire on the rear. A wider fender would be helpful, but also the drive belt is too close to the tire so you need to be careful in buying aftermarket tires that they do not exceed 150mm width or the tire will hit the belt (stock tire is 8mm away from the drive belt). Be aware that aftermarket tires may be rated as 150/80/16 but may actually be wider than its rating! So, measure the new tire width before installing. On most bikes over-sizing is not a problem, but the Sportster 1200 Custom already has a wide tire on it and will not tolerate a wider tire than 150mm. Other than these minor issues there is nothing wrong with the Sportster to complain of. It truly is close to perfection in what you want in a Harley-Davison.
"Sportsters used to be called 'girl bikes' but not anymore. They are totally new design with better looks, handling, suspension and function along with big fat tires and cool styling to appease the eye and they feel and sound great too!"
If you do some Internet searches and talk to Sportster owners you are going to find out that it is the Sportster that is the most reliable Harley-Davidson you can buy.
Sportster is too small for me? Maybe not. First, find a dealership that has a Sportster model with extended foot controls and ape hanger handle bars. This will accommodate most tall riders. If not? You can research to get extended foot controls that extend out further than stock models do or have a set custom built and installed by a custom bike builder. Same with ape hanger bars and maybe a new custom seat. This will get the bike to fit you and not void the factory warranty. Is the stock 1200cc engine powerful enough? At 75 horsepower it is plenty powerful. Remember, the much bigger bore Twin-Cam engines not so long ago (and still running the streets) only had about 64 horsepower! Test ride a new Sportster, you'll see! The Sportster also feels powerful like a big 125 c.i. engine. I know, I had two 125 V-twin motorcycles. Those big bikes are heavy beasts while the Sportster is light as a race machine so it gets up and goes right now! Just take a 1200cc Sportster for a test ride. Don't test ride a 883cc Sportster it is underpowered compared to the 1200cc.
Can I buy an 883 and later bore it to a 1200? You can, but it is not worthwhile. Just take the plunge and get the 1200 engine and there will be no regrets later with added expense, parts compatibility or warranty issues.
Are the rear shocks defective on the Harley-Davidson Sportster models? I would say inadequate because a defect is something that is difficult to repair or has no honest-to-goodness repair available. The stock rear shocks are too stiff for most riders and some hard bumps can be punishing. Smooth roads will give you no problems, but wavy road surfaces (road repair sections are wavy) will overwhelm the shock's rebound control and the bike will slam your back hard. The solution is to first check to see if the shocks are set to their lowest setting. If it is this still won't cure anything for the shock is of poor quality or design. The shock spring needs to be replaced with a softer spring tension, but the best route is to purchase new aftermarket shocks that will give a softer ride with controlled rebound. Don't buy cheap shocks. Don't buy the first level of shocks a manufacturer offers. Read reviews and purchase at least their second or third best shock absorber. This way you gain the added features more advanced shocks offer. Stock shocks work fine on many bikes, but the Sportsters do have inferior rear shocks. Older Sportsters also had poor front fork springs and rebounding and also need a fork brace. The newer model front forks are okay, but the rear shocks have got to go to the trash bin. I installed Progressive Suspension 430 rear shocks and a Mustang seat and the ride is really nice now. If you weigh less than 200 pounds the stock length replacement size is just fine. If you ride with a passenger you may need to buy a 1" longer length or longer rear shock. If you do go the longer size you will have to install taller front fork spring kits to keep the bike level.
My Recommendation: Buy the Sportster 1200 Custom with 16" cast wheels, forward foot controls, mini-ape-hanger bars with 4" pull-back risers or go with 12" apes.* Check out the H-D luggage rack, side plate and back rest then add saddlebags (I used Leatherlyke brand which cost less than many others, fit perfectly and look real nice and last forever never dulling their appearance). They also lock and have a helmet latch that prevents helmet theft. The 1200 Custom has the power, immense torque, extended touring range and the ability to fix a flat tire beside the road due to the tubeless tires installed. Don't buy a bike with spoke wheels! And, it is totally customizable by H-D accessories and the aftermarket has all the parts and supplies you want or need at low prices to boot! I recommend you test ride and buy the 1200 Custom. You'll save yourself a ton of grief compared to the defect-riddled Twin-Cam contraptions that bleeds wallets dry from never-ending repairs.
* For the 8" Ape handlebars you need to reroute the throttle cables by removing the tie strap on the fork and use a loose-fitting wire tire so the cables will stay slack. You need to solder or install wire connector for 3 or more inches of wire extension feeding the speedometer's accessory indicator light assembly, which is easy to do. It's just a LED light bar that needs to be extended as it won't reach its specified location. To install 12" apes you need to to extend everything; wires, brake hose, clutch and throttle cables. Harley-Davidson may have a plug-and-play kit available. Check the aftermarket for a kit or just do it the old-school way.
You can purchase plug-and-play ape hanger handlebars that include wiring, brake line and cables already installed on the bars to make the bike fit you easier. A nice Mustang seat gives comfort along with Progressive Suspension rear shocks. The rear stock shocks are considered mildly defective as they don't absorb road bump shock well, but is easily cured at low cost to get a comfortable ride.
ORDER AMAZING ONLINE Click Here
A FEW FACTS ABOUT MODERN HARLEY-DAVIDSON SPORTSTER's
Racing Engine
The modern Sportster arrived in the year 1986 with the ultra reliable and perfect racing technology Evolution engine replacing the older Ironhead engine. In 1991 the chain drive was replaced with a belt drive and a fifth transmission gear. In 2004 the Evolution engine was rubber mounted to the frame which made the bike smooth and comfortable, but thereafter steady improvements were made employing stronger front forks, big fat 16" tires front and rear, fuel injection, larger gas tank, great paint schemes and the Sportster is a beast to reconsider with a low price you can afford.
Superior Design Engine
Do you want to see how superior a Sportster engine truly is? Take a look at S&S big power 132ci X-Wedge V-Twin engine that puts out 135 horsepower. You can see this huge engine on the Confederate Hellcat X132 motorcycle that costs $54,450. If you look at this bike and engine you will see a Sportster. Bigger, yes, but look at the design and Sportster it is. Examine the location of the cams, the pushrod tubes are straight like the Sportster. The cams are driven by positive-geared belt... no chain here! Even a right side drive belt is used just like the Sportster along with the shorter and more streamlined primary system. There are more similarities, but you will see S&S incorporated proven reliable Sportster technology in their new X-Wedge engine, which is the biggest production V-Twin in the world. They know a good thing when they see it. So, all you die-hard Twin-Cam lovers will one day wake up and see that the Sportster engine is way superior than the Twin-Cam in reliability, longevity and cost of operation. Seeing is believing. Go to: Confederate Also, if you check out the new Indian Thunder Stroke engine it too has many features the Sportster engine already has.
AFTER YOU BUY YOUR SPORTSTER READ THIS ARTICLE BELOW
Harley-Davidson 2012 Sportster 1200 XL Custom
Handlebars
: The stock bike already had the mini-ape bars on it.I bought 6" pull-back risers and re-routed the cables around that area to fit and did not use the brake hose clamp instead using a loose zip tie to keep the hose from flopping about. I had to cut the speedometer wires, I was about four wires, and I added a few inches of wire to get the speedometer to be risen up. Other than that it works fine.
Can Bus System:
If you bought the new 2014 and newer Sportster it has a Can Bus electric system and is different from older electrical wiring systems, so if you change pipes and air cleaner it will likely need a reflash on the ECU computer (most bikes do anyway.
Exhaust Pipes & Flash Device Problems:
The 2-into-1 pipes shown in the photo are Supertrapp brand which I do
not
recommend you install on your bike. I have also had bad luck on Vance & Hines pipes and their flash device and they do not give refunds and give customers a hard time, so avoid that company. I have also had bad luck on Cobra brand flash device not working, so don't buy their flash device. Don't buy two into one pipes as they have a muddy sound, good power, but sound is not crisp like duel exhaust pipes. I like to hear each cylinder fire. The pipes on the bike in photo are two-into-one and I had trouble with those lousy perimeter bolts. Don't buy any pipes with those tiny bolts in the core. You can see a ring of about eight bolts in the rear of the pipe that holds the silencer in position. Problem is, those thin diameter bolts get dirty and threads fill in and you can't remove the bolts without them stripping. Even installing shorter bolts won't cure the problem.
Flash Devices Continued:
Be aware that many, but not all, flash devices today are "married" to the bike which is just awful for the consumer. It means once you install the infernal device you can't remove it from the bike, it is stuck like glue and will not ever work on your next Sportster so you can't take it off the bike and put it on another Sportster. Stay away from these businesses who are doing this to their customers. Power Commander marries their product to the bike, so don't buy their product. Other companies are following their lead to maximize profits at consumers' expense. I won't put these rip-off devices on any of my bikes!
Thunder-Max.com
has the best tuner money can buy because it does not piggy-back onto the existing ECU, it actually replaces the stock ECU with a new device. Keep this in mind in case one day some dealer tells you that you need to replace the ECU. The Thunder Max automatically tunes the bike as you ride. It is expensive about $1,000 for Twin-Cam engines and about $700 for Sportster's and it does not marry to the bike so you can take it with you if you sell your bike. Example: you buy a $400 device that marries to the bike, you then buy another bike you got to spend another $400 so that's now $800 you spend just for two bikes. The Thunder Max could save you money.
ThunderMax
is an industry award winning, performance ECM designed specifically for EFI equipped Harley Davidson® motorcycles. This highly advanced, stand-alone tuning system utilizes proprietary AutoTune technology with wide-band oxygen sensors to deliver unmatched performance and Rideability. ThunderMax comes 100% assembled, ready to install with no wire-cutting or splicing required. Simply replace the factory ECM and oxygen sensors, load a map, and enjoy your new ride!
ThunderMax Benefits Include:
Easy to Install & Simple to Use
Increased Engine Performance & Motorcycle Rideability
Cooler, Smoother Running Engine
Adjustable Idle Speed & Rev Limit Control
No Dyno Required - Automatically Tunes for Riding Style & Riding Conditions
Never Outgrow It - Easily Accommodates Bike Changes (Pipes, Cams, and More)
100% Engineered & Made in the USA
3-Year Factory Limited Warranty
Exhaust & Air Cleaner Element & ECU Maps:
A stage-1 tune up is getting the bike to flow more air in and more exhaust out of the engine with a bit of fuel enrichment to get more power and a smoother running more efficient engine. The ECU computers on motorcycles today are terribly sensitive and will not tolerate the rider changing the exhaust or the air cleaner element like in the old days, so the bike will just run lean and spit, stall and run hot as hell which can cause piston damaging pings, knocks preignition. So, the UCU's controlling internal map needs to be flashed to enrich the fuel delivery to the engine. The map must also be the right map for the brand of exhaust and air cleaner element you install on your bike. Most maps are varied so you can make the selection and install the proper map. The ECU flash device will have these instructions. Most riders just let their dealer do this and that is just fine as it is convenient and also done right the first time, in most cases. Consider installing the Thunder Max product described above.
Harley-Davidson's Screaming Eagle Pipes:
Check out the pipes Harley has, their Screaming Eagle brand slip-on pipes are economical and sound good, but watch out as they are now selling pipes with those circular bolt patter too that will cause you grief. The Harley-Davidson Screaming Eagle brand slip-on pipes I ended up with have only one bolt that holds the silencer in the pipe which is not a problem as the bolt has large threads and can be removed even if carbon accumulates on the threads.
You Tube has advisory videos on exhaust pipe selections:
https://www.youtube.com/watch?v=zreI23UkB6s
https://www.youtube.com/watch?v=DrND7nk0hlY
Air Cleaner:
Screaming Eagle brand under a stock air cleaner cover. Flows more air and the stock cover protects from rain water unlike some other brands that will permit rain water to be sucked into the engine which can cause a broken piston, bend a piston rod and cylinder head valve and crush the crankshaft rod bearings.
Seat:
Mustang Seats.com
These Mustang seats are incredibly comfortable and affordable. The next seat I buy will have a back support and Mustang has them for Sportsters.


Shocks:
Front shocks are stock. Rear shocks on Sportsters are horrible due to a short travel swingarm so you need to invest in good shocks. Mine are
Progressive.com
430's at the stock 11.5" length. Do not lower your Sportster as many riders due to get a slammed appearance as the stock height is already too low. The lower frame rails drag when driving over speed bumps so be careful here as this is not good as it tends to grind away at the welded tab that holds the side stand (kick stand) spring. The bike does not drag its frame easily when leaning into corners, but it does not like speed bumps. If the side stand tab is rounded off a easy weld will fix the problem. If the side stand spring tab fails the side stand will dangle as the spring will not be able to hold the device in the up position. Just watch this. It's not a serious defect, just something that needs to be inspected once a year to prevent a side stand failure. No, the bike will not fall off the side stand, not at all. The side stand will just dangle in the downward position. When you think of it, if the spring or the spring tab weld were to fail, it will create an awkward situation for you. When you stop to park, how will you be able to dismount the bike? You can't. You'll need to find a strong place like a telephone pole to lean the bike against. You could use a Bunji cord or a weak spring that is easy to install by hand to fix this in an emergency so the side stand can be raised or lowered. Can you install taller shocks for the rear? Yes, you can, but this will shift more weight to the front tire which is already too heavy to begin with. I would not do it as it could upset handling in a bad way. I would not go over a 1/2" higher than stock to a 12" shock. It still will not correct the problem of speed bumps grinding away the side stand spring support weld. I left my Sportster alone with the stock height. I drive slow over speed bumps in parking lots and I have not had any side stand failures, yet, at 60,000 miles on the bike.
"Harley's Big Twin Cam engines now have water-cooled exhaust valve seats. Big deal, Sportster 1200 engines had and still has oil cooling circulating around their exhaust valves long before the water-cooling concept was dreamed of."

Saddle Bags:
Shown on the bike are
LeatherLyke.com
brand bags. They last forever, but there is a defect I found that they crack at the mounts of which I had them replaced about three times on warranty. This defect only applies to Harley-Davidson, not other bike brands as I have had very good luck otherwise with these bags. However, the company was of zero help to find the cure for the cracking and treated me as if they could care less to find a cure or assist or even communicate with me exchanging ideas to fix the problem. Poor customer service! I discovered the cause was the bags were flapping up and down when hitting road bumps as the bags were not firmly bolted to the frame. The cure was easy, I zip-tied the bags nylon shock bumper to the rear shock absorber and the flapping and the cracking ceased. I won't buy these bags again due to the fact the company ignored all my requests to find a cure and then tried to weasel out of their warranty not to fix the bags again. So, I recommend you pay the extra money and buy the Harley-Davidson brand saddle bags which are about $700 of which are larger in size and look great too.


Saddle Bag Relocation Kit:
The saddlebags, most all do, require that you relocate the rear turn signals rearward beside the license plate to install the bags. I wish Harley-Davidson would just do this on all their bikes so no kit would be required. Also, these kits require you cut and splice in longer wires and solder the wires and rout them under the rear wheel fender which most shops just use silicone glue to hold the wires in position out of sight. It's a lousy set up that needs refinement for sure! A good kit would already have longer wire with waterproof connectors and a specific metal or plastic protective channel to run the wires away from the spinning rear wheel under the fender or alongside the fender. No such sensible kit I have found yet exists. Here's a business opportunity for a new product!
Rack & Sissy Bar:
Both are Harley-Davidson accessories. They fit good. I recommend Harley-Davidson accessories as they mostly fit right, but aftermarket products for Harley's also have real good products too at lower cost, of course.
Harley-Davidson Daymaker LED Headlight:
Is it expensive at $430 for a headlight? No, it is not, when you consider the safety aspects of less vehicles cutting you off the road as the extremely bright white light catches their eye. If is saves you from one accident and keeps you out of a wheel chair and saves you medical bills it is cheap insurance at $430. Plus, riding at night has never been so pleasant as it lights up the entire road ahead and aside like daylight making objects in the road easy to avoid. It is one of the best investments I have made. Other companies are now making LED headlights and LED bulbs a much lower cost. I tried the LED bulb replacement in my Triumph motorcycle and found it to be just a tad slightly less powerful than the Harley-Davidson Daymaker, but still respectable. The cost was less than $75 for the LED replacement bulb. I recommend you try the replacement bulb if you want to save some cash as the Daymaker is expensive despite it's rugged reliability and brightly lit headlight features that can't be beat. The Daymaker is the best I have seen so far, but it costs about five times the cost of a replacement LED bulb.
"The 1200cc Sportster is so far advanced over the Twin Cam engine it is comical to compare the technology between the two. The Sportster is a perfected racing engine with four tightly-controlled geared cams for high power and superior valve control. Even the Twin Cam engine with a gear-drive cam still has loose cam chains for inferior sloppy valve timing events that the Sportster Evolution engine is way ahead in precision valve control. The more you learn about Sportsters' the more you will love them!"
LED Turn Signals:
The turn signals are
Radianz.com
brand yellow LED lights and I did have a problem with one light losing a couple LED's and the company honors its warranty and send me a new one. They are economical and bright which is a safety factor as anything that increases your visibility is a worthwhile investment in your own wellbeing.
Windshield:
Windvest.com
are super great windshields. They have a curved shape up on top that flips air over your head so there is no wind turbulence buffeting anywhere to ruin your ride. They are also quiet too! Don't buy one of the bulbous stock massive windshields Harley-Davidson and other companies sell as they are battering rams that create wind turbulence and noise. Also, if you notice I have my windshield tilted backwards as this reduces wind drag and increases fuel mileage by about 3 miles per gallon! And, still, there is no air turbulence and no wind noise. When you do buy, make sure you get the wider version. The narrow versions do work, but not as well as their wider models to tame wind buffeting. For Sportster's there are only two sizes; wider or less wider, so get the wider. Clear or Dark? Does not really matter as you will be looking over the windshield anyway. I had clear version which I liked a lot and the dark version works good too. The company stands behind their product and they are at most motorcycle rallies and do installations. I have never had one fade, discolor or crack as they are very high quality and two of them are about 10-years old and they both look like new. Scratches? Forget about it, they don't scratch to any material degree that can't be easily buffed out by hand. They are economical and can be taken with you if you sell your bike as they have mounts that fit most all bikes no matter which bike you buy that will fit your Windvest windshield. Buy one of these high quality, yet economical and most enjoyable windshields you won't want to buy another brand, ever again. In fuel savings alone it is an investment that pays you back many times over. The secret is they have a indentation at the top of the windshield that channels the wind over your head and the sides are curved to send wind away from you on the sides. I put these windshields on all of my motorcycles.
Extra Wheel Sets:
Not shown are extra wheel sets I have purchased from Harley-Davidson complete with bearings, brake rotors and rear wheel pulley installed on the wheels. Why? For fast and easy tire swapping! When I need to change tires I already have the wheels with new tires ready to install. I can now remove the wheels and install the new wheels in a couple hours or less time and be done with it. I then remove the old tires install new tires at my leisure ready for the next swap. I know this convenience is not for everyone, just for us riders who do our own tire changing will it become evident as a worthwhile expense. With belt drives you can do this as the belts and pulleys do not wear out like chains with high and low spots forming in the chain and wearing down metal sprocket teeth. The Harley wheels are way more affordable than you may at first think. Custom aftermarket wheels can cost way over $1,400 just for one wheel rim with no disk rotor and no rear pulley. Harley-Davidson sells two wheels with bearings, disk brake rotors and rear pulley all for less than $1200... and both are quality attractive stylish chrome wheels! What is nice about the newer Sportsters with 16" wheels and tires you can use the spare wheel set on the next late model Sportster you buy.
Tires:
Michelin.com
Commander II motorcycle tires handle real nice, brake strongly and are just awesome and they wear like iron. You'll get 12,000 to 15,000 miles on a set of tires with ease which is almost twice that of other brands. The cost of these tires are also a lot lower too, which is amazing in its own right considering the quality, longevity and performance. Mitchelin Scorcher tires also now come stock on Sportsters of which I got 12,000 miles on those tires! I used to like Dunlop tires as I thought they were made in America, but if you look on the rubber it say's, "Made in China" so I don't buy Dunlop tires anymore and, they don't last no way near as long as the Commander II tires. Beware, Dunlop advertises they are made in USA, but which tires I do not know. I saw Made in China on the tires I used.
Handlebar Grip Lacing:
The frills on the handlebars are for looks but also for safety as they flap in the wind which causes a moving object to be seen by car drivers. It just adds a measure of increased visibility. A better color would be anything other than black.
Spark Plugs:
E3 Spark Plugs.com
. These E3.36 size plugs are better than Iridium spark plugs as they simply will not foul and fail to fire even with bad fuel, a weak ignition coil or an engine that is blowing blue oil smoke out the exhaust. They give lots of power and fuel economy. You should give them a try.
Fuel & Oil Treatment:
Amazing Oil Gas Treatment.com
Just about nothing else works better in your Harley-Davidson motorcycle as it treats and lubricates both the oil, the engine components and the entire fuel system and fuel pumps. Check it out!
32 ounce size Amazing Oil Gas Treatment
.
Fork Roll Bag & Tire Repair Kit:
Loosely fit with Velcro straps contains air compressor and flat tire repair kit, with needle nose pliers. With this kit if I get a flat tire due to a nail in the tire (about once every two years this happens) I will not have to be stranded or call a tow truck. In just 15 minutes I remove the nail, insert a plug, inflate the tire with the compressor and away I go. This kit has never failed me! The air compressor can be purchased at WalMart or auto supply stores. I use the ?? brand as they are small portable devices. You need to wire in the included coaxial style or ASE style wire harness onto your battery terminals to power the compressor or use the jumper cables (wire-in setup is better for portability as there are no large clamps to carry). I wrote a book on how to install new tires and how to fix flat tires on motorcycles
Learn to Install New Tires on Your Motorcycle and Fix Flat Tires
CONVERSION KITS FOR 883cc TO 1200cc ENGINE
If you purchased an 883cc Sportster especially if it has a rubber-mounted engine you can upgrade. If you do not have a rubber-mounted engine upgrading will only create more annoying vibration with the added power.

Harley-Davidson, S&S Cycle has an upgrade kit that is an easy install for mechanics. Everything is included. Google/Search this, "Sportster 883 to 1200 Conversion Kit" Dealer Catalogs also sell the kits. A lot of 883 owners buy the kits. After the install, you will need to upgrade to a stage one tune-up for the 1200cc new engine. The shop that installs the kit can also do the tune-up.




The below kit is cheaper, you just bore out the cylinders you now have, install the pistons and gaskets, use the same heads and away you go.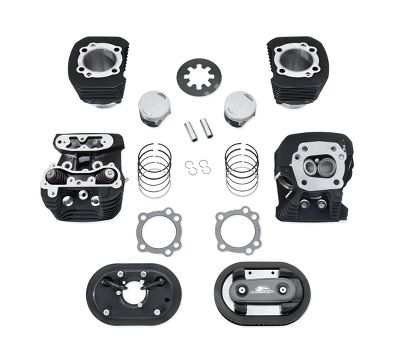 Harley's kit includes a stronger clutch spring, new big cylinder heads designed to fit the oversize cylinder bore and ported to breath more horsepower, new cylinders and a larger air intake system. The Harley kit is the best of the bunch and most complete and about $1,000 you get a lot for your money. My advice? For the best results, pay A Harley-Davidson dealer to do the entire job and you'll get a warranty and peace of mind as the job will be done right. H-D guarantees it.

NEW UPGRADES FOR 2015 MODELS
Small changes made is with the exhaust system cross-over configuration which actually enhances nothing. The brake disks are larger 11.80" diameter x 0.20 thick for better stopping power (the older system worked just fine). ABS brakes can be ordered. I don't like ABS due to the increased complications and expense to maintain them as special computerized equipment is required to calibrate them as only Harley-Davidson dealers have that device. It means you can't work on your own brakes unless you are just replacing brake pads. Forget about bleeding the brakes or changing handlebars. If you break open the brake fluid line it must be recalibrated by the dealer's computer and it will cost you $100 or more. However, safer braking is better with ABS especially in panic stops. No price can be put upon enhanced safety. I would not turn down buying a Sportster Custom 1200 XL if it had ABS brakes. I am still only recommending you buy the Sportster 1200 XL Custom as its got great cruiser looks, has those big -fat 16" cast wheels which are great for reliability, traction, cool-running long-lasting tires with a smooth enjoyable ride. Those cool-running tires alone pay for themselves as you get 12,000 to 15,000 miles out of them. I still recommend you try the Michelin Commander II tires as they are awesome in all respects.
GOOD NEWS FOR SPORTSTERS - NEW UPGRADES FOR 2016 MODELS
The 2016 model year has new adjustable rear shocks and a more comfortable seat, two items I have complained about that finally have been addressed by Harley-Davidson. I am still only recommending you buy the Sportster 1200 XL Custom because other models have too small gas tanks, skinny tires or the underpowered 883 engine, dangerous and unreliable and high maintenance spoke wheels, poor seating positions, too large battering-ram-style windshield, etc. Buy a Windvest windshield, they look great, increase fuel mileage, reduce wind turbulence and economically priced. The new Sportsters also have a fork brace on their 39mm front fork tubes to calm down the high-speed 80+ miles per hour handlebar wobbling. All have new modern improved cartridge dampening technology in the front forks so there is no need to purchase aftermarket shock front or rear now. Rear shocks are now emulsion-style threaded preload adjustable with progressive-rate springs. Harley is upgrading the Sportsters each year and they are certainly on the right path as the engine is perfect, the ride quality was needing serious upgrading and it is being accomplished. For now, the 2016 Forty-Eight model has a thicker 49mm fork tube. I would like to see this on all the Sportsters! The retail price is still awesome at $10,899 - $11,449. Haggle and you'll get a better price! You should be able to easily get a $1,500 discount or more!
MORE GOOD NEWS
I usually do not quote from magazines, but this time I just had to share the good news from a reader of November/December 2015 issue of Motorcycle Magazine, page #14. "I've been reading your magazine for several years. I have a 2006 Harley-Davidson 1200L Sportster Low. It has 159,000 miles on it, and the motor hasn't been worked on or been out of the frame. The clutch is original except for the space piece that Harley puts in. It came apart back in 2009 or '10, and I had it (the spacer) replaced since it was causing the clutch to act up. Keep up the good articles! - Mr. Cauley Sr. So, if you have 80,000 miles on your Sporty you got another 80,000+ more to go before you even think about overhauling the engine. If you keep the oil clean with an oil cooler you'll not go wrong. Use full-synthetic oil for best engine longevity in all three engine compartments (primary chain case, transmission and engine oil).
CLEAR CAM CHEST COVER FOR SPORTSTERS
Figure Machine has clear covers for the cam chest so you can visually inspect the cam and oil pump gears, but it is an expensive item.
MORE ARTICLES
What You Need To Know Before You Buy A Harley-Davidson Motorcycle
Why You Need To Know Before You Buy a Polaris brand Victory Motorcycle
Increasing Horsepower on Motorcycles
Harley-Davidson Bagger Motorcycle - The Insanity
Harley-Davidson Advice - Let's Talk Harley's!
New Polaris Indian Motorcycle & Thunder Stroke Engine - Features You Need To Be Aware Of Before You Buy.
PRODUCTS
Learn to Install New Tires on Your Motorcycle and Fix Flat Tires
© by James Russell. All Rights Reserved. Posted on: JamesRussellPublishing.com Reprint Rights: Enthusiasts and Motorcycle Dealers may post and reprint this article and use it to help them sell motorcycles as long as they do not make any changes to the document.